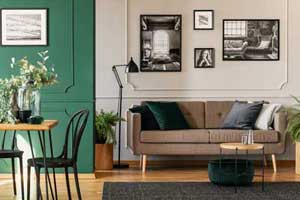 Period terraces – from grand Georgian parades to small Victorian terraces – have always provided a uniform spacial design within terraced houses. But there came a point in time when this needed reassessment. We have always loved our period homes, but the way we use our living spaces has changed significantly over the last 50 years. Instead of using separate sitting rooms, dining rooms and boxed-off kitchens, we've wanted to reinvent our spaces to suit a different way of living. We've done this by knocking down walls, opening up and reshaping rooms, bringing in light and openness with Velux and French windows and extending into our gardens.
Opening up
The design of contemporary built homes since the 1990s has also focused on open-plan spaces with fewer supporting or dividing walls, where bedrooms and living spaces shift openly into dining and food preparation areas with minimal or no barriers. However open-plan – which has become a given within homes both old and new – can be hard to make work in practice. With fewer walls, where does the furniture and storage go, how do you subdue noise and how do you achieve the experience of luxurious airy penthouse rather than a cluttered unstructured space?
Distinct zones
Zoning was always the answer, creating mini areas within the open-plan whole for food prep, dining, working and relaxation. Nowadays it's called broken-plan living, where distinct zones are created with split levels and flexible partitions, such as curtains, bookcases and screens. Never have these solutions been so useful, as we are spending more time at home than ever, cooking, eating, sleeping, working and relaxing.
So how does broken-plan living work?
Well it's about achieving a balance between having areas designated for a specific function that offer a level of privacy while at the same time keeping that sense of openness. Keeping the light flowing is a key consideration of broken-plan living and skylights, internal windows and glass screen doors can be used to achieve this, and these also help to subdue noise levels between your zones.
Levels and divisions
If you are creating a broken-plan area from scratch and the space has the required height, a mezzanine level can be a winning option, creating a separate private area for sleeping or studying. But there are plenty of options not requiring major structural solutions. So for example if you have a kitchen area beside a living area you could use glass partitions to reduce kitchen noise for those in the adjacent zone, while keeping the visual connection and sense of space. Another device is to use half walls to designate a functional area for working, possibly combined with shutters to ensure complete privacy when required. Or a partial wall extending from an external wall, perhaps behind a television set, creating another zone behind.
Open partitions
Open shelving is another useful technique for creating partitions between areas while maintaining light flow, such as a sleeping area and a living room, and this approach can create interesting vistas from one area to another. Indeed sometimes shelving that is more lightweight and decorative is all that's needed to define an area and keep the light flowing. Gauzy curtains and voiles or more substantial black out curtains for sleeping areas are another good semi-permanent division.
Get the storage right
A broken-plan style does require some creative storage options. It's wise to use external walls for significant and effective storage – space allocated for deep cupboards with clear storage divisions is worth every centimetre and if well organised will keep your open areas clearer. Furniture allowing storage can also help to define your zones – a low freestanding sideboard with shelving above, an ottoman or big vintage chest all work well as a visual focal point.
A successful broken-plan approach using these ideas brings multiple benefits – an open, light-filled space with focused task-specific areas and semi-permanent partitions that connect and enhance the living experience.