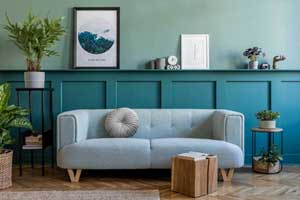 Flick through the pages of any luxurious interior magazine and you'll be struck by breathtakingly designed elegant rooms, iconic statement furniture, divine artworks, svelte bedrooms with tantalising fabrics and textures, and streamlined kitchens with shiny saucepans hanging from the ceiling, abundant fruit bowls and designer kettles on the otherwise clear worksurfaces.
These spaces are always swept clean, dusted, hoovered, manicured and presented to an inch of their lives. Even in the interiors that are actually people's (sophisticated design types') homes, there are no toppling piles of papers that need dealing with or filing, no coats hanging on the back of chairs, no receipts abandoned on the floor, no coffee tables with notebooks and ashtrays and bottles, no piles of paperclips and pins and random plastic attachments that might be useful, no discarded envelopes, no hammers and glue guns, no piles of Playstation games and instruction booklets, and no boxes or corners filled with items for Oxfam. No life stuff, in short.
Everyday takeover
This, I charge you, is the challenge for any home dweller, dealing with the melee of everyday life that is never represented in the design inspiration pages. That's why these spaces look so darn good! Keeping an interior spick and span is frankly hard work. Having a cleaner helps if you can afford it, but do we expect cleaners to make decisions about abandoned buttons, rusty nails, broken blinds and piles of small change? There is indeed an ever-present compulsion to clean up before the nominated cleaner arrives, otherwise they can't get to the bits that need cleaning.
Taking charge
Keeping this under control is about making decisions, but it's also about planning and logistics (selling unwanted items, transport, commissioning helpers with physical strength) and DIY skills (dripping taps, regrouting, applying fresh paint and remembering to wash the brushes out after use). And what about when it cranks up several notches and you have to sort out someone else's home, which is packed with objects with nostalgic memories. The result? More boxes in the spare room waiting for attention, dismantled beds leaning against walls, a pistol gun flint lighter that has lost its spark, and a battered copy of Mrs Beeton's Book of Household Management that belonged to your great grandmother on the hallway shelf, with its spine long gone.
Aside from heritage management duties, most of us can drift along with a bit of sorting and admin at key points in the week, but when wanting to sell your home, the pressure is on to stage your interior and infuse it with House & Garden glamour. In this scenario, it is in the pre-staging (also called sorting) that you need to be dramatic.
Making decisions
As you sort, you need three categories: charity, sell and throw out. The throw out is the easiest; the charity and the sell both require sustained and dedicated planning and then action. If you struggle with clear decisions on these, a successful tactic is to use a surface (such as a table) and put all the random life stuff on it from the room in question and then summon all members of your family together to make decisions about it (where it belongs or if it's needed). It's a great way of clearing but you have to insist on familial cooperation. (And it can only be done one room at a time because of their generally short attention span.) More practical approaches are to make or reallocate deep shelves or repurpose a cabinet for storing the unsightly piles that are indispensable, thereby clearing the dining table, and train yourself and your family to put things back where they belong. This is the hardest job of all.
In conclusion, it's best to forgo Vintage Chic, Industrial, Scandinavian and Rustic at this early stage, and embrace Swept Clean surfaces and floors. Only then can you get the cleaners and the DIY team in.