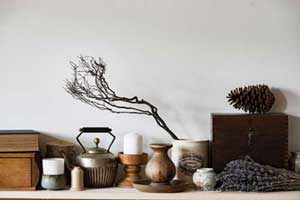 "Nothing feels quite as satisfying as coming home to a house that sparkles," maintains Good Housekeeping magazine. I can think of quite a few things that are way more satisfying – like bingeing the latest Netflix drama wrapped in a duvet on the sofa or having good friends round for a knees up with alcoholic refreshment, and in the latter case 'sparkling' is only about the conversation.
Why spring clean?
But it's (almost) March and around this time spring cleaning is supposed to come into play. But where does this have its roots? During the 1800s lamps were lit with whale oil or kerosene, which had to be heated with coal or wood, and combined with the lack of windows being opened in the colder weather, the winter left homes coated with layers of soot and grime requiring cleansing attention. In Jewish custom, spring cleaning is linked to Passover, marking the liberation of Jews from slavery in Egypt, where a general cleaning takes place in order to remove any yeast bread, or chametz, from the home. It's the psychological impact though, that is the most powerful these days because we like to hibernate in the colder months and the lack of light makes us sleepier and wanting to cosy up, so the energy for cleaning just isn't there. But when the light comes back and makes our days longer, we feel energised by the sunlight and want to cleanse and start anew. (Well, that's the theory.)
Introducing Cluttercore
Dust and grime aside, one way we can reinvigorate our homes is to give the interior an uplift, a new perspective, and that can be inspired by tuning into the trends. Reassuringly for those of us who find hoovers heavy and stressful and dusters high maintenance, one of the latest interior fashion flavours is Cluttercore. This has been fed by the phenomenon of lockdown, which has not only made our spaces more multifunctional, combining offices and nurseries with a home's standard functions, but all that time at home and its new more complex roles has also driven us to sort and purge and either ebay, charity shop or otherwise dispose of the results.
The other major thing lockdown has done in the home environment is fed the taste for our homes as permanent restorative sanctuaries, and so for those who prefer squirrelling to cleansing it has been more about reorganisation than purging. The process of going through cupboards, attics and dark corners has resulted in the rediscovery of precious personal knick-knacks that never got unpacked from the last house move, leather-bound editions of classic books that may not be valuable but have visual intrigue on a prominent shelf, and family china that, with careful curation, is a powerful retro statement of the 1970s.
Big or small canvas
This 'clutter' is not rubbish, it is the result of an instinct to surround ourselves with the personal bits and pieces that make us feel more 'us'. It's comforting and life-enhancing to have little groupings of pieces that we have collected or that we value. Nothing is forbidden – indeed such items could well include those domestic social parodies of china carthorses, crystal decanters or flying ducks, but they are presented outside of their traditional roles, as retro, kitsch, creative, personal expressions.
These collected items don't have to be small and clustered – the eclectic maximalist look can make the whole room your clutter canvas. Vintage posters, handmade rag rugs, 1960s Habitat chairs, fabrics from the market in Istanbul, floral china serving dishes, the papier mâché vase that just needed a bit of basic restoration and a lick of paint. Your cupboard is your oyster and if the cupboard doesn't deliver, then why not open it up with eBay and Gumtree. Social media will feed your research (#Cluttercore currently counts for more than 13 million views on TikTok), and there is no need to feel bound by must have purchases to achieve the look, because it's all about surrounding yourself with what you like. And the best thing of all? No hoovers required.