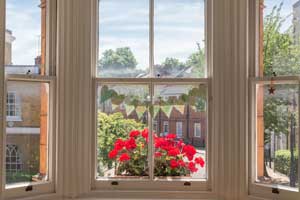 Enter a room. Where is your focus first directed? Why, towards the light. Windows are central to the character of a property and every room is orientated around and defined by them. Why is it that basements and attics are spaces associated with entrapment and fear? It's the lack of light.
Window benefits
Studies demonstrate that daylight and views of nature have positive impacts on health and wellbeing at home. We need daylight (in fact we need regular exposure to both light and dark) and a view of the outdoors is a contributor to wellbeing, particularly if it's a natural or attractive view. A good level of natural light daily also results in better sleep quality and circadian regulation.
The attraction of these enablers of light makes sense, but there is something more than logic at play here. Where are the most coveted tables in a restaurant or café? In an office space? In a bedroom? On an aeroplane or train? Almost always by the window.
This preference runs deep. There is a theory of positive space called 'refuge theory' that suggests people prefer an environment that give a place to hide while maintaining wide fields of vision. So it's not just the light – we like to look out at the world and whether it's a view of a luxuriant garden or a busy street, looking out is a pleasure and a security. It stops us feeling trapped in a box, it frees us from our walled structure, particularly important for individuals who are not able to leave their dwellings freely.
Bristol's windows
What about windows in our city? We have a real mixture of architecture in Bristol with nearly 200,000 houses and more terraced housing and flats than the national average. Many are Georgian (built when the city was developing as a port) and there are a number of residential squares, such as Portland Square, where terraces of three-storey houses were laid out around central gardens.
Georgian
Georgian houses, and therefore the placement of windows, are based on symmetry. Windows tend to be larger and taller on the lower floors and double-hung sash windows were the typical window styles, using grids typically in nine or 12 panels which allowed the use of smaller panes of glass. The Georgian houses' focus on space, comfort and style, their generous proportions, and their light interiors due to the large windows mean they are elegant and sought-after properties.
Victorian
The majority of our Bristol homes were built during the Victorian era and before the First World War. Sash windows were still favourites, but the advancements in glass production during this period saw the removal or reduction in the number of glazing bars.
Victorian windows were characterised by their 'two over two panel' grid design that features on both the top and bottom panes. The window tax was abolished in this era, increasing the number of windows in new houses. The size of windows also began to grow, welcoming in more light, using sash bay windows and giving access to fashionable balconies. Many sashes had their sills lowered to become full length or were replaced by French windows. Victorian houses were built for all classes – palatial squares were developed for the prosperous middle classes and Italianate and Grecian villas sitting in their own gardens were constructed in places such as Clifton Down. A host of working class and artisan homes were also built, prominently in the south and east of the city.
End of century and beyond
The end of the century saw the Arts and Crafts movement using leaded-lights set in stone mullions or oak frames and the Queen Anne movement with white-painted small-pane sash windows. The pre-war and inter-war periods saw a mixture of revived-traditional and modernist windows. The first were an evolution of the Arts and Crafts and Queen Anne styles and the Arts and Crafts ones become the common style for many inter-war housing estates, with timber casements, often with small panels of leaded and coloured glass in doors and at the top of windows.
Window style preference is always a matter of personal taste and the windows in our period houses are only one part of their visual and experiential impact. Beyonda preference for windows that are authentic to the period of the house – rather than unsympathetic modern imposters – I'd say there is no right and wrong. Big windows that let in lots of light are always winners, but there is a charm in almost any clean, well-kept light-giving window in a well-presented house. So let's enjoy them all.